Ed's Rod Shop prepare original, restored and modified 1932 Ford chassis for use under 1932 Ford Hotrods and also for use under A-V8s. We also can restore your old and damaged 1928-31, 1932 or 1933-34 Ford frame.
Prices vary depending on how you want your frame. We can supply dozens of options. Ford did offer a replacement '32 frame late in '32 for repairing accident damaged cars. Ford charged $17.50 for the new frame. Prices have gone up a bit since then.
Standard 1932 Ford frame fitted with Shadow Rods Model-A front crossmember to lower car 1" - €4950
Moving rear crossmember rearward to center wheels in the wheel arches - €Free
Original Model-A front crossmember modified to fit 1932 frame €350 extra
Model-A rear crossmember modified to fit 1932 Ford frame - €350 extra
Engine mounts; 1948 Mercury €350 extra or A-V8 Ambulance mounts - €500 extra
Front and rear shock mounts - usually €350 - €400 per axle depending on parts used.
Split wishbone mounts fitted - €100
Rear reinforcing legs to stiffen up 1932 K-member frames. €950 extra. (€1000 for dropped floor cars like 3W)
X-member instead of 1932 K-member. These frames are very rigid and are suitable for OHVs and start at €7500
Standard re-built 1932 Ford frame from €4950 including 19% sales tax.
All frames feature all the original holes and are riveted together using the correct gauge vintage rivets.

This lovely 1932 Ford frame has been fully restored and fitted with some interesting options before being painted in high gloss chassis paint. Note the intergrated V8 Flathead "Ambulance" engine mounts and the reproduction pedal assembly.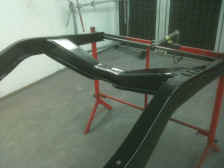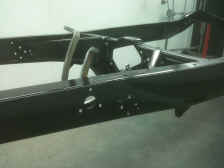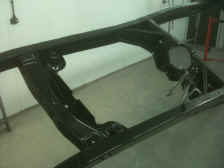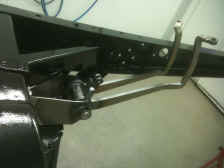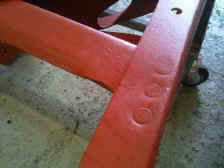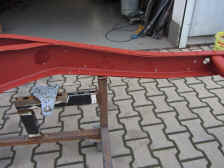 Side rivet detail
Top rivet detail
1934 frame rivet detail
A fully optioned 1932 A-V8 rolling chassis featuring Model-A front and rear crossmembers, X-frame strengthening legs and ambulance motor mounts.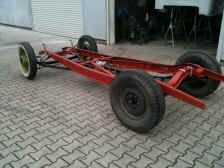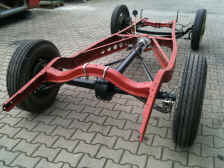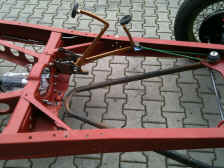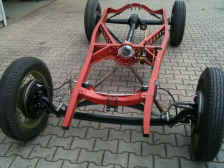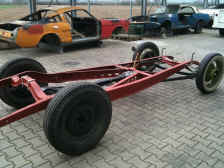 This Model-A chassis has been fitted with a 1932 Ford K-member to mount the flathead V8 engine and V8 transmission. The chassis has been "Zedded" at the rear and the rear crossmember moved rearward to mount the Model-A rear spring behind the axle.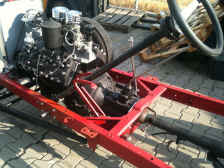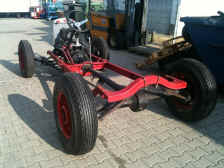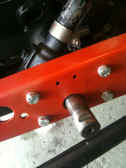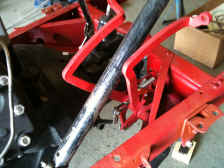 Options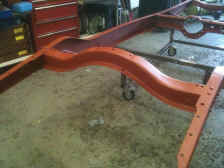 This popular option of a Model-A rear crossmember (left and right) allows the use of a quick change rear end and also lowers the rear of the car quite substantially if combined with a spring behind axle configeration. Priced at €350 extra.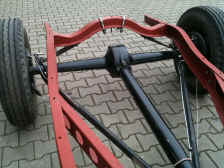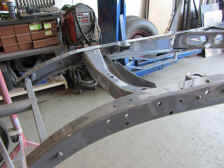 Genuine original 1928-31 Ford Model-A front crossmember. This requires modification to fit the 1932 frame. Priced at €350 extra including fitting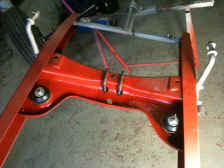 Ed's Rod Shop's unique Ambulance V8 motor mounts are an expensive but very attractive way of mounting your late model Flathead V8 in an early frame. Priced at €500 extra. These mounts require the use of an original Model-A front crossmember (see above)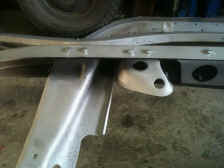 1942-48 Mercury Motor Mounts. These very rare and hard to find engine mounts are great to use if I can find them. Priced at €350 / pair fitted.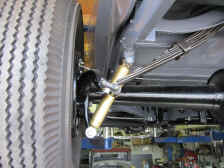 Front and rear shock mounts. The solutions are varied. Where possible I use authentic Ford parts. Prices are around €350-€400 per axle depending on parts used.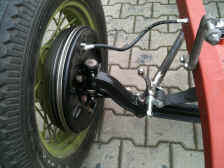 Bolt in X-frame legs to reinforce the 1932 Ford frame. €950-€1000 depending on body style.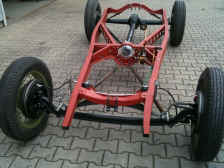 1932 Ford X-frame from €7500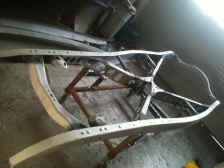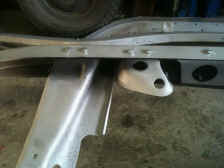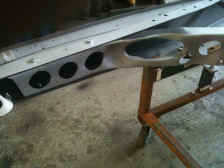 Pictured here before riveting is Ed's Rod Shop's deluxe 1932 Ford X-frame chassis.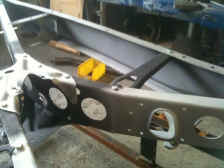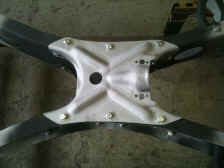 The center box section has been reversed, flipped top to bottom and shortened. This frame accepts stock 1940-48 Ford pedals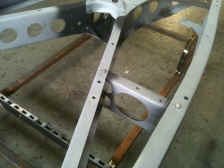 Notice the way the X-frame flows into the outside rails just how Ford designed it, increasing torsional rigidity.
Here is another 1932 A-V8 X-frame chassis built by Ed's Rod Shop
1932 A-V8 frame
Central tunnel
Model-A front crossmember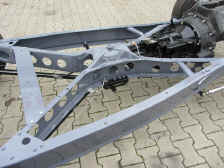 Shown here with fully chromed show front end.
1939-48 Master cylinder
Chevy S10 5-speed transmission mounted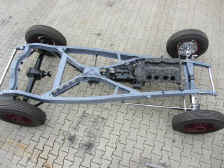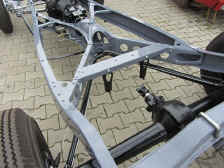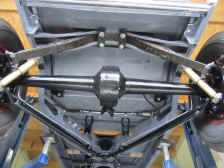 Model-A rear crossmember & spring
S10 Transmission from below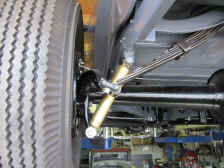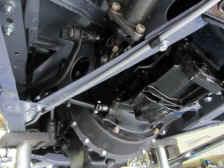 Shock detail
Exhaust hanger
1941-48 Pedals
1934 Ford frame restoration
Ed's Rod Shop can restore your old and damaged 1928-34 Ford frame. This 1934 pictured below had very serious rust damage and broken front and rear crossmembers. The front crossmember was replaced with a Model-AA truck front crossmember. The rear crossmember was replaced by another 1934 crossmember. Serious rust damage on the X-member was repaired and both side rails which were seriously weakened by rust were replaced by new ones from ASC. All original holes in the side rails were drilled out and the frame was riveted back together.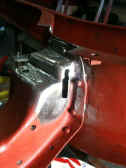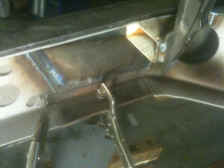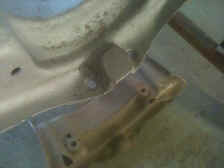 And the final result after riveting back together.