This 1934 Pickup came from the USA. It was basically stock but had been updated in the 1950s - badly. Welded on engine mounts, welded on steering box mount, badly split wishbones and a 1939 pedal box assembly had been fitted where they'd almost completely cut away the left front inner leg on the chassis.
In addition the frame had rusted in the typical places, had soldering in repair patches and accident damage too. The first step after stripping the vehicle was to have the frame chemically dipped to remove all the rust and paint.
-----------------------------
The original conversion to 1939 pedals had destroyed the left inner chassis leg. This leg was restored to original and original 1933 pedals were installed utilizing a conversion kit which enables the original pedals to operate hydraulic brakes.
Although the frame had been chemically stripped, the sandwiched places had not been touched. If you don't dismantle your frame this rust STAYS THERE! In order to remove the rust the outer rails have to be removed! All remained rust was removed and treated.
Previous owners had cut holes with a torch. These were welded up as the truck was to use aero style shocks.
Typical rust for early Ford V8 frames. The metal was replaced by metal from a 1940s frame.
1933-34 front crossmember after restoration
Again here we can see the typical rust which isn't removed by chemically stripping or sandblasting. Here rusty parts have been replaced which sound metal from a 1940s frame.
A previous owner had cut these two holes together. Here a replacement part is eing welded back in to return the frame to stock.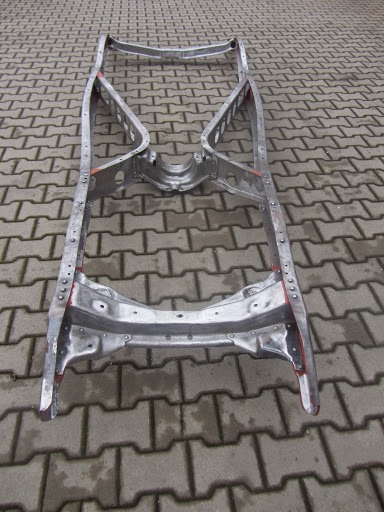 Finally the frame is riveted back together using authentic specification rivets.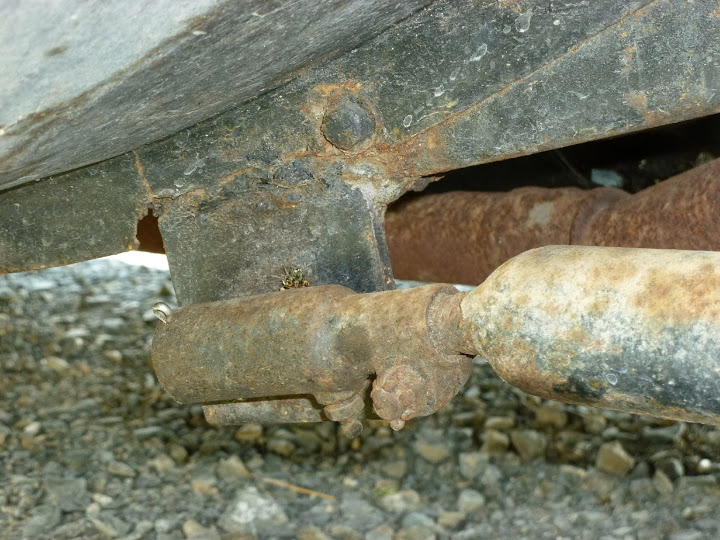 This is how they split wishbones in the 1950s! The tie rod ends were restored and used for the new drag link. The wishbone was un-split, (returned to stock configeration) using a 1932 yoke and two sections from some previously shortened rear 1936 wishbones.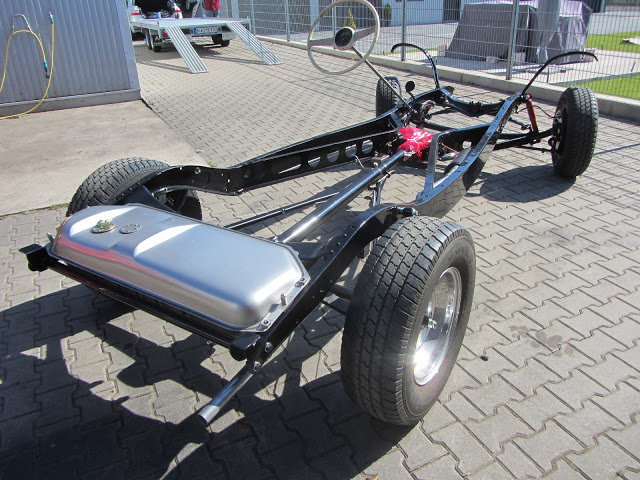 After painting and reassembly. The rear axle was rebuilt with new gears. The hydraulic brake conversion was fitted together with the 1940 hydraulic brakes.
A stainless steel tank and hydraulic aero style shocks complete the picture.
This poorly executed steering conversion was eliminated. Using an F1 steering box the car was returned to side steering whilst still retaining the comfort of the late style box.
Having Ed's Rod Shop restore your rolling chassis is a cost effective way of ensuring your restored Ford gets finished sooner rather than later. You can get on with the bodywork, electrics and trim, knowing that the rolling chassis is in good hands.
This 1934 Ford is now good for another 80+ years of service.